A label solution for every project
Labels give your product instant brand recognition.

At Reflex, we produce a huge variety of label products across multiple sectors for some of the worlds best loved brands.
Not sure what label product you need? Or need a label design? Get in touch and we will talk you through the solutions we can offer.
For more detailed information on the label products we offer, see the options below:
Packaging Labels
Self-adhesive packaging labels to display key information about a product as well as branding & design. Available in a variety of finishes.
C Wraps
C-Wrap labels are best for labelling around trays or containers. Available in a variety of finishes and printing options from Reflex Labels.
Digitally Printed
Digital labels are perfect for brands that need high quality, cost effective labels across a short print run.
Foil Printing
Foils can enhance your label or packaging, giving it a luxury, premium finish. Reflex offer both hot and cold foil embellishments.
Durable
Durable labels for products that require extra strength and resilience to environmental conditions.
Plain Labels
Plain Labels from Reflex with multiple adhesive options for various applications as well as a range of shapes and sizes.
Luggage & Carcass Tags
Standard or Bespoke Luggage and Carcass tags from Reflex Labels. Designed to be overprinted by print systems
Promo/ Flash
Give your promotions "shelf shout" with promo flash labels and price labels, perfect for a variety of retail environments. Available as pre-printed reels & sheets or full package options.
Tray End Labels & Cards
Tray end labels available in both thermal transfer and direct thermal variants with compliance for all major UK retailers.
Wineglass & Giroband Tags
Wineglass labels/tags and Girobands (or printed ribbons) used for labelling netted products.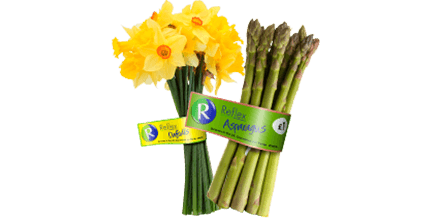 Bunch Labels
Bunch labels for bunch-packed fresh produce such as flowers and asparagus, a more cost-effective and sustainable solution.
Looking for Labels with a Premium Finish?
Reflex Label Plus is an award-winning premium labelling service for brands that require value added processes, including: Braille, Hot & Cold foiling, bespoke labelling effects and much more.
Frequently asked questions
What label finishes do you offer?
All of our product labels can have a wide variety of finishes including foiling, screen, tactile and more. Each type of finish is depending on material and format, options will be discussed during consulting and quoting.
For premium label designs our team at Reflex Label Plus are on hand to offer a bespoke service, complete with consultation on only the most premium materials and finishes, perfect for the BWS sector.
What are your printing options?
We offer both flexographic and digital printing, depending on your project, timescales, cost and preference.
Are you BRCGS Certified?
All of our manufacturing sites are BRCGS Certificated.
Cant find what you're looking for?