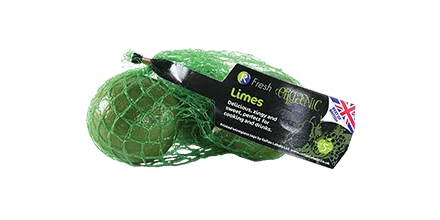 Two-sided printing on tags
Durable & tear-resistant material
Overprinting & Direct thermal printing options
Wineglass labels/tags and Girobands (or printed ribbons) are used for labelling netted products, usually fruit, vegetables, and mini cheese selections. At Reflex we can print on both sides of the Tag labels – the tags themselves are durable and tear-resistant.
Wineglass: includes direct thermal material on the reverse for overprinting during packing and is attached to the net with a clip.
Girobands (or printed ribbons): are attached using a heat seal and instead of thermal material packers will use a variable data label when packing.
Wineglass & Giroband Tags for netted products Applications
Wineglass and Giroband tags are used on products that use netting packaging. These are commonly seen on supermarket products including:
Citrus fruits
Vegetables
Mini cheese selections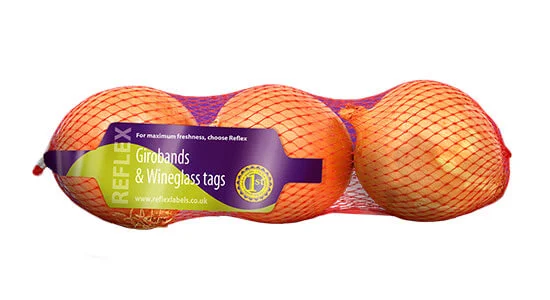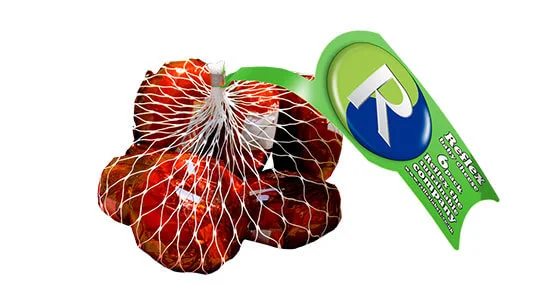 Frequently asked questions
Are they suitable for a retail environment?
Yes, our wineglass labels are made with retail in mind. The material used is durable and tear-resistant meaning it can withstand tray and fridge storage and general handling without compromising the label.
Can we produce bespoke wineglass labels?
Yes! We can create wineglass labels with non-standard shapes and can produce multi-colour labels to accommodate any design.Get in touch if this is something you want to know more about!
Are we certified?
All our manufacturing sites are BRCGS certified, meaning all our products are quality assured, legally compliant and authentic.