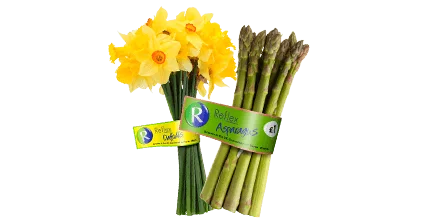 Can be overprinted using a laser printer – Faster run speed than alternative products
Printed on paper or film up to 10 colours
Allows room for artwork, promotions, or compliance with food information regulations
Can be produced with recyclable material
Environmentally friendly bunch tag options
Our self-adhesive bunch labels are designed to replace metal tags on bunch-packed fresh produce such as flowers and asparagus. In comparison to metal tags, bunch labels are more cost-effective, product efficient and helps to reduce your carbon footprint.
Fresh Produce Bunch Tags/Labels Applications
Bunch tags are used for bunch-packed products, like those seen in supermarkets and on market stalls. The most common products that use bunch tags/labels include flowers and asparagus, however they can be used for other fresh produce that can be bunched together.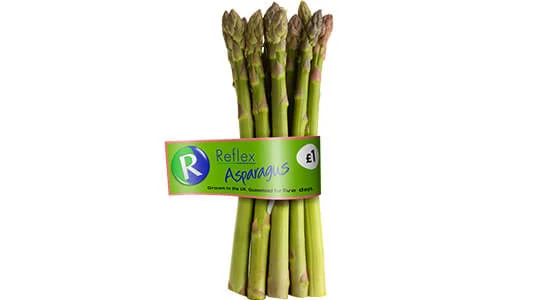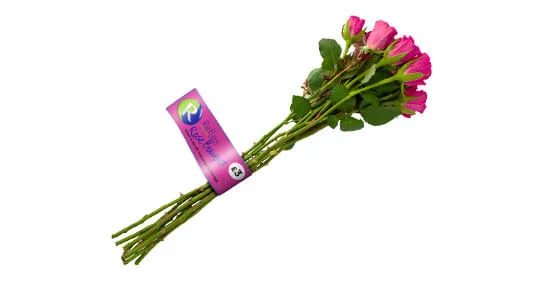 Frequently asked questions
What materials and formats can you provide?
We can provide bunch labels in a wide range of materials, including recyclable substrates. Our bunch labels can also come in varied shapes and sizes.
How are your bunch labels a more sustainable solution?
We can produce bunch labels out of fully recyclable material, the labels themselves produce less environmentally damaging waste than alternative metal tags.
Are you certified?
All our manufacturing sites are BRCGS certified, meaning all our products are quality assured, legally compliant and authentic.