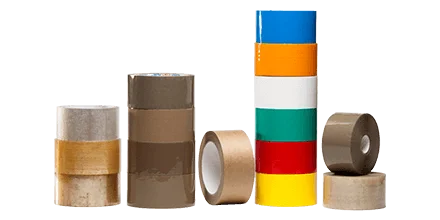 We can offer an extensive range of packaging tapes for every application. From plain and specialist tapes to recyclable gum and custom printed tapes. Our tapes are popular in the FMCG sector and are suitable for helping keep products packaged up safe.
Plain Self-Adhesive Tapes
A full range of self-adhesive tapes for all applications. Available in hand roll and machine roll formats with acrylic, hot-melt, and solvent based adhesives.
Gummed Paper Tape
We offer both plain and printed gum paper packaging tape made from renewable resources making it 100% recyclable. Using gummed paper tape is perfect for creating an integral closure that is also tamper proof – all whilst saving on costs too!
Printed & Custom Tape
We manufacture a full range of standard printed text warning tapes perfect for the FMCG sector. We also offer custom packaging tape for you to create your own branded or designed tape, with this product we also offer our in-house repro service to make sure the design prints perfectly. Both our printed and custom tapes come in both hand and machine rolls.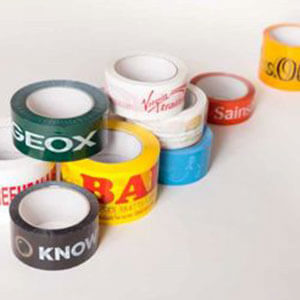 Supermarket depot tape
At Reflex we stock and manufacture a complete range of supermarket distribution depot tapes. These include depot name tapes, making it easier to identity in the supply chain, special instruction tapes (e.g., day of the week) to reduce errors and branded tapes for increased awareness of destination.
Frequently asked questions
Are these products subject to the Plastic Packaging Tax?
Concerned about Plastic Tax?
A lot of our packaging solutions are made with at least 30% recyclable content, meaning that our products are not liable for the Plastic Packaging Tax. If you're unsure about the tax in relation to your product, please get in touch and our team will be happy to help.
If you would like more information on the Plastic Packaging Tax read our 'what you need to know' guide.
Who are Reflex Packaging Solutions?
A part of The Reflex Group, Reflex Packaging Solutions strive to provide quality products at competitive prices to an ever demanding market. We supply a complete range of quality packaging products sourced from leading manufacturers over the world.
We understand that we need to be flexible, reliable and competitive and would welcome the opportunity in proving that not all packaging providers are the same.
Where do you supply to?
We supply to companies throughout the UK and beyond. Most of our products are available for immediate dispatch in the UK from our site based in Leicestershire.