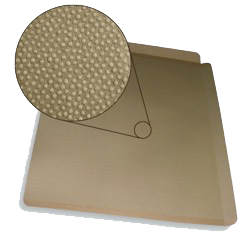 Anti-slip paper, also called grip sheet or anti-skid paper, is used to stabilise loads by increasing the coefficient of friction between the layers on the pallet. It also has very high tear resistance and burst strength which helps to reduce product damage.
Reflex provides easy to use, economical and sustainable anti-slip paper that can be used to protect food grade products.
The sheets have a low unit price and are comfortably competitive with alternative methods of stabilisation. These cost savings are amplified when you consider the sheets can be reused for up to four pallet trips.
Who Benefits from Reflex Anti-Slip pallet paper?
Reflex anti-slip sheets are used by leading businesses across a diverse range of industries, including:
…and most other companies that deliver their products on pallets
Frequently asked questions
Are these products subject to the Plastic Packaging Tax?
Concerned about Plastic Tax?
A lot of our packaging solutions are made with at least 30% recyclable content, meaning that our products are not liable for the Plastic Packaging Tax. If you're unsure about the tax in relation to your product, please get in touch and our team will be happy to help.
If you would like more information on the Plastic Packaging Tax read our 'what you need to know' guide.
Who are Reflex Packaging Solutions?
A part of The Reflex Group, Reflex Packaging Solutions strive to provide quality products at competitive prices to an ever demanding market. We supply a complete range of quality packaging products sourced from leading manufacturers over the world.
We understand that we need to be flexible, reliable and competitive and would welcome the opportunity in proving that not all packaging providers are the same.
Where do you supply to?
We supply to companies throughout the UK and beyond. Most of our products are available for immediate dispatch in the UK from our site based in Leicestershire.