Promotional & Corporate Stationery
If you're in need of printed marketing materials or office stationery, you've come to the right place! At Reflex Pack Plus, we offer a comprehensive selection of printed materials.
Request More Information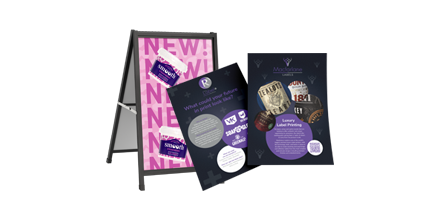 Litho printing is renowned for its high-quality finish and efficient turnaround time, making it an ideal choice for both promotional and corporate items. Whether you require brochures, flyers, business cards, letterheads, or any other printed materials, we have got you covered!
We are here to help you create visually appealing and impactful materials that will leave a lasting impression on your clients.
Corporate & Warehouse Essentials
Popular finishes
+ Gloss, matt & tactile varnishes
+ Lamination
+ Foil blocking 
+ Embossing/debossing
Benefits & Features
+ Up to 5 colour print plus varnishes 
+ In-house folding & gluing
+ In-house plates & studio/design