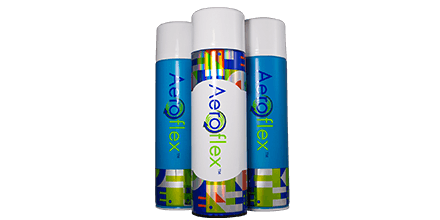 Special print effects, decorative effects include metallic, gloss, matt varnishes, and tactile effects
Small volumes, labelling of small volume cans below printed litho manufacturers MOQ
Reusing obsolete cans, labelling and reusing obsolete cans, reducing wastage
Marketing tool can be used for new products or launches prior to full litho production taking place
Creates a standout shelf appeal for aerosol products
Suitable for shrink wrapping cans such as aerosols and wasted containers where conforming to shape is critical. The Aeroflex™ shrink label solution at Reflex creates a unique decorative shrink labelling solution for the aerosol industry, offering distinctive benefits to brands.
The Aeroflex™ solution offers the appearance of a printed can below MOQ for litho printed cans and with a quick turnaround. Also offering the ability to over label pre-printed obsolete cans. This has become of great importance with the changes in CLP Regulations. Cans are therefore recycled and go through the water bath successfully before filling.
Aeroflex™ - Shrinkable Can Labels Applications
Our Aeroflex™ can labels are for use on canned products such as aerosols. This type of product is seen in many sectors including:
Household cleaning
Automotive
Personal Care/Health & Beauty
Art supplies
DIY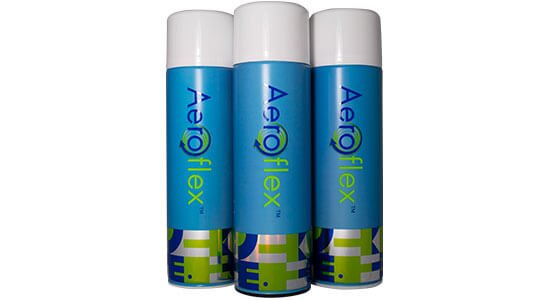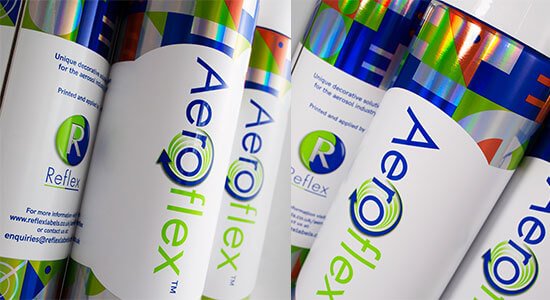 Frequently asked questions
Can you print over existing artwork?
Yes! We've developed Aeroflex so the shrink label can easily be applied over existing can labels. We can print over pre-printed and obsolete cans helping you save costs and reduce wastage.
What finishes are available with Aeroflex™?
We can print shrink-wrap labels with multiple different finishes, from tactile effects to varnishes.
Can you print small volumes?
Yes, we can! we understand that sometimes you need a smaller volume printing whether that is for prototyping or just smaller runs we can carry out small volume prints.