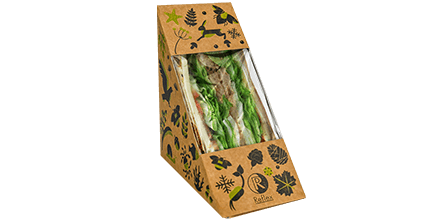 82% less plastic than current packs
100% plastic free packs available
Water based inks & adhesives
7 colour front/reverse print options
Multiple Lamination options
Reflex's Pack Plus division manufacture printed or plain skillets, boxes, and sleeves for the food-to-go and foodservice markets. This sustainable packaging uses FSC® & PEFC accredited carton board, and more importantly its proprietary water-based inks and adhesives are the hallmarks of this truly revolutionary technological advancement.
Plastic-free packs now available!
Options include swapping out the polypropylene lining & window with cellulose or PLA option, making the product 100% biodegradable and fully compostable.
Recyclable Lined Board for Food to Go Applications
Our sandwich skillets, wrap & salad boxes and baguette sleeves are made specifically for the food to go market. This includes PPDS foods. Food to go products are commonly seen in:
Supermarkets
Service stations/Fuel stations
Café's
Markets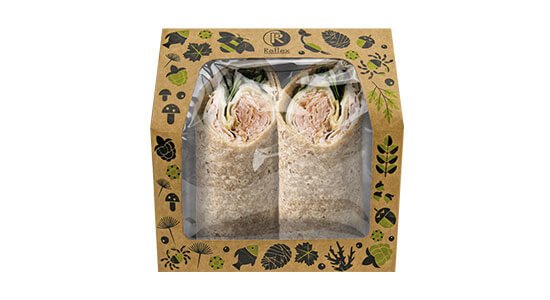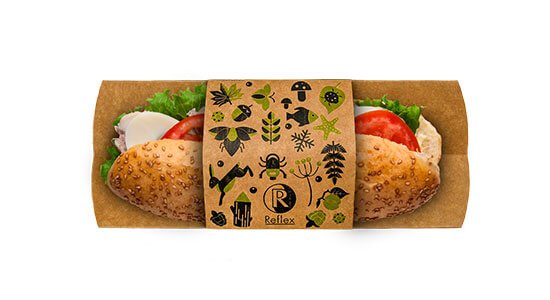 Frequently asked questions
What are your Printing Options?
We offer both flexographic and digital printing, depending on your project, timescales, cost, and preference.
What makes these products environmentally friendly?
The boards used on our lined board packaging is made up of 100% recyclable material. The plastic wrap uses 90% less plastic than traditional methods. The lined board can be easily separated from its plastic wrap, making the pack easier to recycle at home. Our Food to go packs can now also be made 100% plastic free by swapping out the polypropylene lining & window with cellulose or PLA option. The boards themselves are FSC® and PEFC certified, use zero migration water-based inks and adhesives, meaning there's no harmful by-products produced by the packaging itself when recycled. It even makes them fully vegan friendly!
What are the product laminations?
There are a range of finishes available on our recyclable lined board. Our food to go products can have the following laminating options:
Board to Board
Board to Film
Board to Paper
Paper to Paper