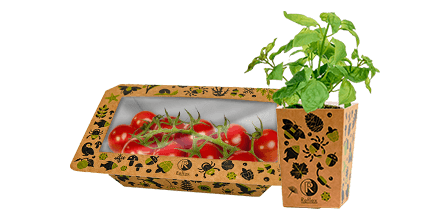 82% less plastic than current packs
Vegan Friendly, Water based inks & adhesives
7 colour front/reverse print options
High-barrier lined for maintained shelf-life
Compostable adhesive for EN13432 packaging
Our product range for the fresh produce and horticulture markets are endless. If switching to sustainable packaging is a key priority for your business, then look no further. Our fully compostable and recyclable trays and pots are perfect for the horticulture market.
All of our products use sustainably sourced carton board, and more importantly its proprietary water-based inks and adhesives are the hallmarks of this truly revolutionary technological advancement in recyclable packaging.
Lined Board for Fresh Produce & Horticulture Applications
Our recyclable and fully compostable (when using no plastics) lined board for fresh produce and horticulture is used in a wide variety of applications. Just some of these include:
Potting for small herb plants in retail
Fruit and Veg punnets – Retail and Market
Nursery Potting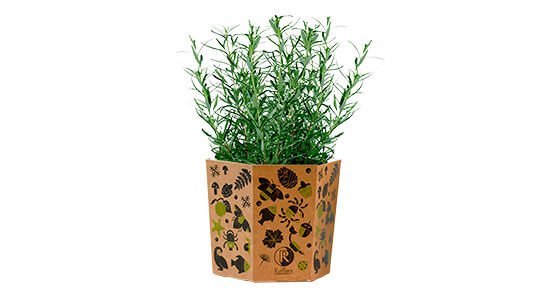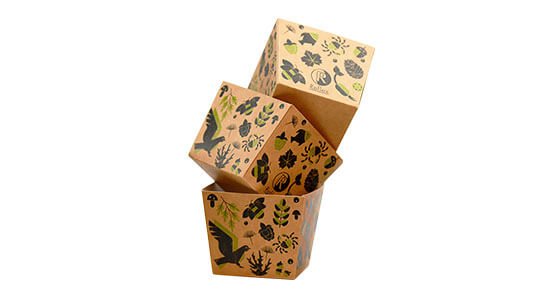 Frequently asked questions
What are your Printing Options?
We offer both flexographic and digital printing, depending on your project, timescales, cost, and preference.
What makes these products environmentally friendly?
The boards used on our lined board packaging is made up of 100% recyclable material. The plastic wrap uses 90% less plastic than traditional methods. The lined board can be easily separated from its plastic wrap, making the pack easier to recycle at home. We can also offer fully compostable 100% plastic free packs. The boards themselves are FSC® and PEFC certified, use zero migration water-based inks and adhesives, meaning there's no harmful by-products produced by the packaging itself when recycled. It even makes them fully vegan friendly!
Are you certified?
Yes all of our manufacturing sites are fully BRCGS Certified. We also use FSC® and PEFC certified materials.