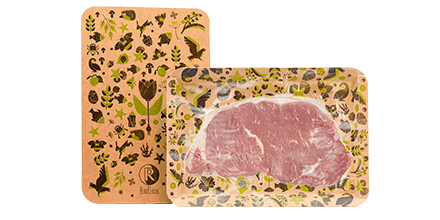 82% less plastic than current packs
Water based inks & adhesives
7 colour front/reverse print options
Multi-layered board to give durability
Two finishing options: Reel to Reel products & Reel to single cut out
Suited to the protein market, our innovative skin pack trays & boards are an environmentally conscious alternative to Vacuum Skin packaging. This product is lined with film for barrier but can include a peelable adhesive solution for plastic removal by the end user, creating an eco-friendly pack.
Our sustainable packaging uses FSC® & PEFC accredited carton board, and more importantly its proprietary water-based inks and adhesives are the hallmarks of this truly revolutionary technological advancement in recyclable packaging.
Lined Board Packaging for Meat, Fish & Poultry (MFP) Applications
Our lined board products can be used in a wide variety of applications. Our skin pack trays & boards are for use in applications where Meat, Fish and Poultry products are needing to be displayed in retail environments.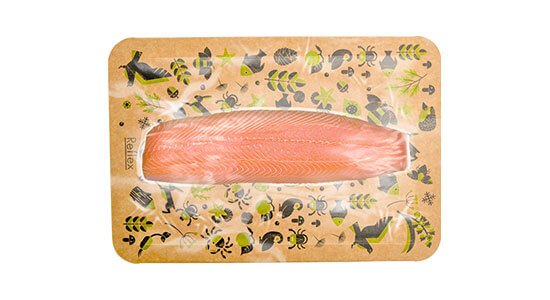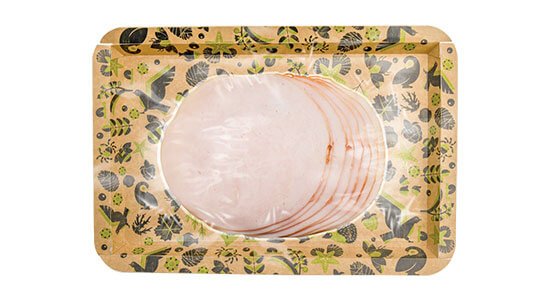 Frequently asked questions
What are your Printing Options?
We offer both flexographic and digital printing, depending on your project, timescales, cost, and preference.
What makes these products environmentally friendly?
The boards used on our lined board packaging is made up of 100% recyclable material. The plastic wrap uses 90% less plastic than traditional methods. The lined board can be easily separated from its plastic wrap, making the pack easier to recycle at home. The boards themselves are FSC® and PEFC certified, use zero migration water-based inks and adhesives, meaning there's no harmful by-products produced by the packaging itself when recycled. It even makes them fully vegan friendly!
What are the Product Finishes?
There are a range of finishes available on our recyclable lined board, including:
Multicolored 2-sided print & foiling
Multiple lamination options
We even have salmon boards available in metallic finishes, gold, silver & black!