This will come as no surprise to anyone that knows Reflex, but we care deeply about the environment. In fact, we're still working towards our aim of becoming the world's most sustainable packaging company.
A huge part of achieving our environmental aims is making sure we're doing all we can to minimise our carbon impact. We became a carbon neutral company in 2019, but weren't content with that! So last year we announced our promise to offset the entire volume of carbon emissions by 2030 from the day the company was founded in 2002.
2022 marks our 20th year in business and we're well on track to hit our target and continue to add to our growing list of sustainable efforts that will help protect our planet for future generations.
Being a responsible packaging and label company, it's essential we continue to innovate and create packaging products that can be recycled and the waste we produce disposed of in the least environmentally damaging way possible. That's why we've focused a lot of our attention on creating new products that are recyclable, are made up of more recycled content, can be recycled by schemes and reduce the use of single use material in general.
So, what are we doing to encourage more recycling?
Self-Adhesive Liner recycling
Our Boston site (Lincolnshire) has a specialist liner recycling centre that runs in conjunction with our raw material suppliers. This service is open to our customers who purchase labels from us that uses both PET and Glassine backing paper.
This is how it works:
Reflex provides the customer with a special box to use for the recycling project.
Customer fills the box with non-contaminated backing paper – whatever's left over from the plain or printed pack labels we've produced for their products.
As soon as the box is full, A Reflex vehicle will collect it (when we're in the area to make sure we're being nice and efficient) and store it at our Boston facility.
Once we've collected enough waste from all our participating customers, it's collected in bulk and taken away to be recycled.
The backing paper is transformed into raw material pulp, which in turn goes into recycled content products, avoiding what otherwise would have gone to landfill.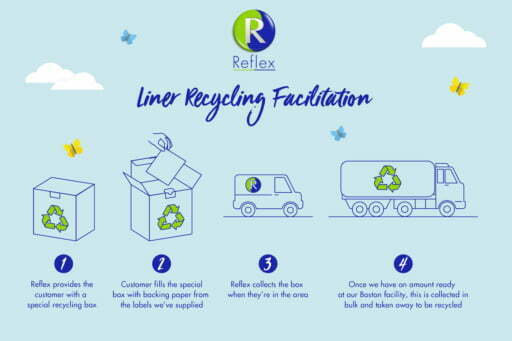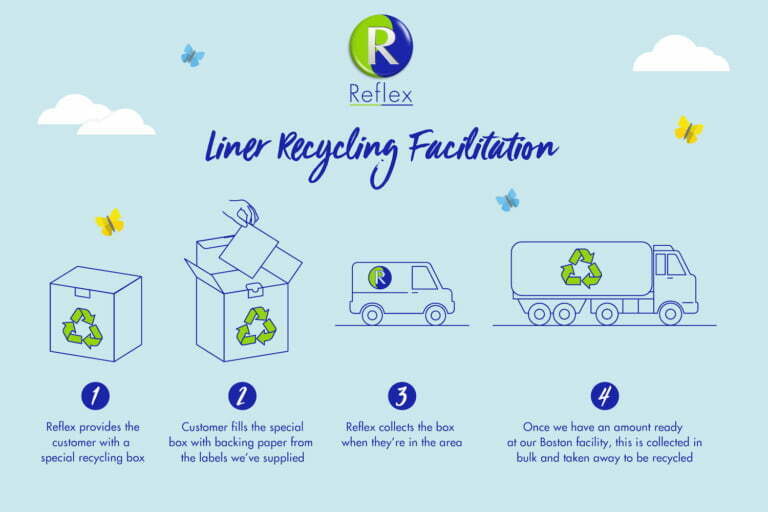 A member of OPRL Scheme
The OPRL scheme is in place to deliver a consistent UK-wide recycling message on retailer and brand packaging. By being a part of the scheme, it means we are able to align all of our packaging specifications to meet the requirements for packaging recycling.  We are also able to advise customers on the most up to date guidance and can consult to help improve the recyclability of products.
Lined Board recyclable packaging – Reflex Pack Plus
In 2021 we launched a new lined-board division which focuses on offering a more environmentally friendly alternative to plastic packaging. Pack Plus uses up to 90% less plastic than traditional plastic trays, and the board and film itself are 100% recyclable.
They also feature FSC® and PEFC certified material and even uses environmentally & vegan friendly water-based inks and board adhesive solutions.
Reuse & Recycle
You may have seen back in September 2021 we revealed our fully recyclable cardboard exhibition stand at the Lunch! food to go show. Which is part of our reuse and recycle aim, where we ensure anything we create for exhibitions, customer giveaways and anything else we have produced use the most environmentally friendly materials and can be reused and/or recycled. Our cardboard stand has not been recycled yet, we have plans for it to be used again this year with a little bit of a facelift – watch this space!
Alongside our recycling efforts and initiatives, we want to ensure that our customers always have a choice in packaging substrates to meet their sustainability and recyclability goals. That's why we work closely with our raw material suppliers and within our innovations team to ensure recyclable and recycled content products are widely available. This provides our clients with an enviable range of choice, which in turn helps them to meet their own sustainability goals and contributes to delivering the circular economy.
If you want to know more about our recyclable packaging choices and options available to you, get in touch with one of our experts today!