To celebrate 20 years of packaging innovation we decided to take our teams on the road to demonstrate the very best of what we can do across the globe!
We've had a brilliant time meeting new people, unveiling our SIX amazing stands and talking about all things packaging, labels, printing and applicators and much, much more.
With so much going on the past few months it's easy to lose track! But fear not, we've created a handy round-up of the shows we exhibited at and a little overview of each one…read on to find out more.
lunch! 2022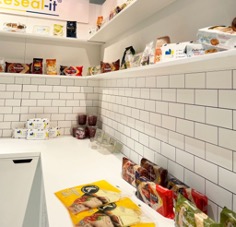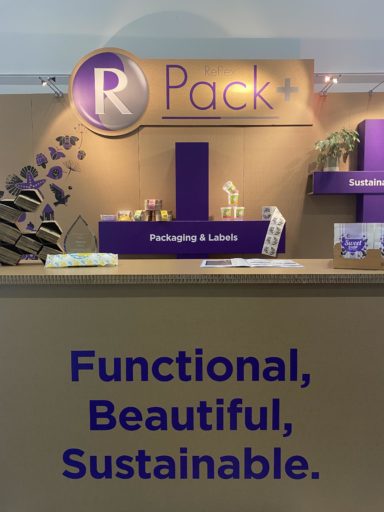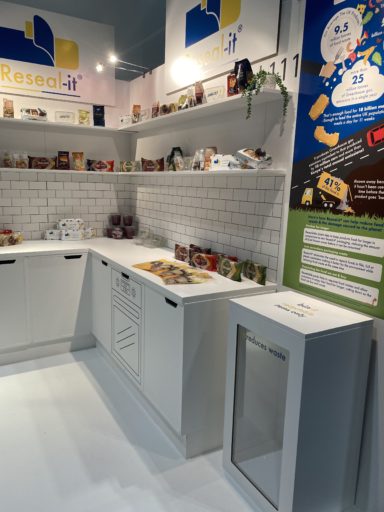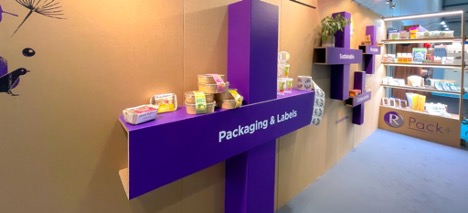 The first stop on our Reflex exhibition tour was the lunch! Food to go show at London ExCel on the 12th and 13th of September.
Reflex Pack Plus returned to lunch! giving their 2021 stand a bit of a facelift recycling it for another year, we even went one step further by having it shipped off after the show to be recycled back into cardboard for packaging (or exhibition stands!).
Our Pack Plus stand focused on sustainable and beautiful packaging solutions. This year, we worked with many brands to display their real-life Pack+ solutions, alongside our conceptual packaging and branding ideas created by our in-house design studio Graphic Brands, demonstrating the very best real world solutions and providing inspiration for future projects!
And for our first double stand reveal, we also debuted Reseal-it's new look and their all new Reseal-It kitchen stand, made from fully recyclable cardboard and sustainably made. Helping tie together the reseal-it message: reducing waste and helping our environment by making smart choices with packaging. Reseal-it demonstrated how their labelling solution helps to reduce food waste, keep products fresher for longer and reduces secondary packaging. On show were real-life solutions from some brilliant brands!
Over the two days we met some great new people, gave away lots of sweet pouches, and discussed lots of new potential projects!
A successful two days.
London Packaging Week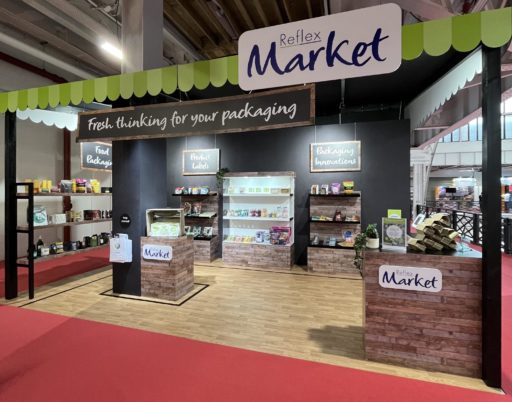 After a few days of rest we then headed over to the London Olympia for PCD, PLD and Food and Consumer Pack as part of the very first London Packaging Week!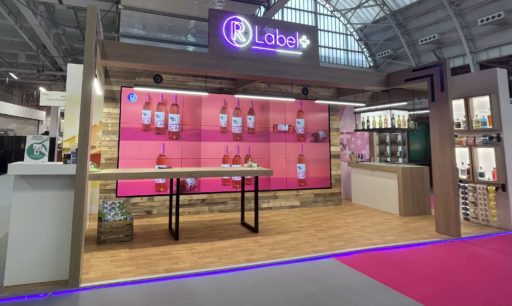 This was the second of our double stand reveals of the year: 'Reflex Marketplace' (Reflex Group) and Reflex Label Plus. We had lots of visitors to both over the two days (we didn't go home with a single giveaway!), people even loved our green story brochures to tell our sustainability mission, which you can see for yourself here.
This show was the debut outing for the 'Reflex Market' – a faux market packed full of amazing brands and innovative, award-winning packaging, staffed by experts in their division (flexibles, labels and linerless to name a few). The marketplace was created to show that no matter where you look in a supermarket or similar setting, Reflex can create stand out packaging and labelling solutions to suit any brand!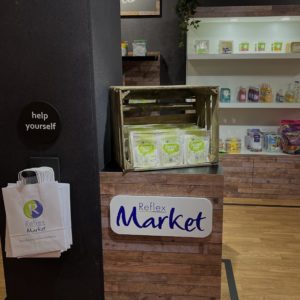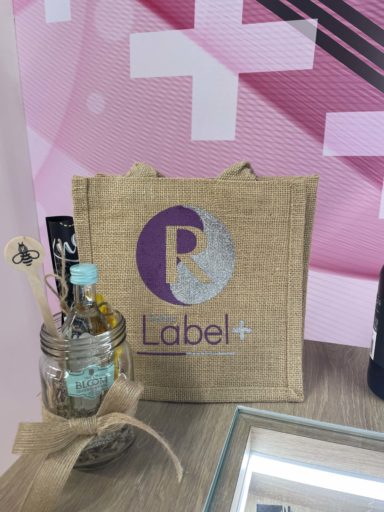 Our Label Plus stand focused on our premium labelling for brands that expect the best. Nestled between the cosmetics and drinks sections of the show, the stand was elevated by the huge video wall – showing off just some of our intricate, premium and highly embellished labels. The stand was also flanked by reels and bottles with stunning labels.
Both stands had awesome giveaways, with sweet pouches, bags and brochures for the Market stand, and a DIY cocktail kit (complete with a branded hessian bag) for the Label Plus stand. These were very popular with visitors and it's always lovely seeing people around the show carrying the Reflex logo!
We finished the week by packing up the stands and getting one ready to be shipped on to its next outing… more on that soon!
PPMA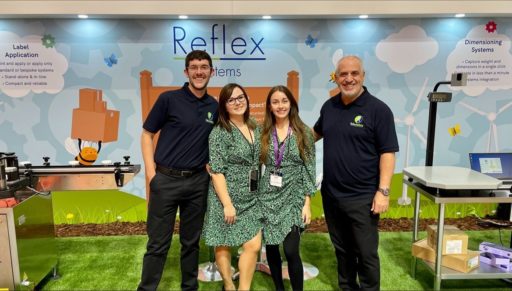 Reflex Systems were at the PPMA show in Birmingham from the 27th to the 29th of September with their all-new stand for 2022!
The Reflex Systems team had a fabulous few days showing what they can do and welcoming prospective clients onto the lovely green grass (we've been told it's very comfy to walk on!).

They displayed their portfolio of products in a production line setting, from label printers and software, right through to applications and dimensioning systems.
The PPMA show allowed the reveal of the new EPK Label Applicator, an automatic self-adhesive label applicator which can be installed and fit right on to production lines.
It didn't stop there because, in addition, they also launched the new ParcelCube VISION. This machine enables you to capture the weight & dimensions of irregular shaped items with never seen before accuracy!
For those that aren't aware, Reflex Systems cover all things 'label associated equipment'. If this is of interest to your business, the team has their very own website here. Check it out!
Scanpack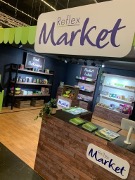 After its outing at London packaging week The Reflex Market went international for Scanpack 2022 in Sweden at the start of October. It was the perfect opportunity to re-use the stand, which goes hand-in-hand with our sustainability ethos!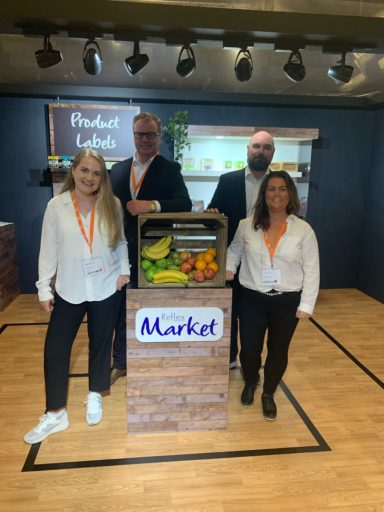 Our new Reflex Etikett team used Scanpack as a launching ground for Reflex's presence in Norway. And what a fabulous reception! The team had a great time meeting with prospective clients who were thrilled to see Reflex move into the European space.
We are really excited to expand our reach, allowing other countries to get a taste of what working with Reflex can do for their businesses, and look forward to seeing what some of those initial conversations evolve into.
We'd like to take this opportunity to welcome our new teammates on board! You can find the dedicated Reflex Etikett website over at: www.reflexetikett.no
The end of the 2022 road trip…           
We had a brilliant (but busy!) time at the various shows this year.
Thank you to all who made the shows a success, including the event organisers, stand builders and Reflex Group team members.
Also a big thank you to the amazing customers who sent us samples to dress the stands with and to the visitors we met – we're very excited about the future projects that come from these shows!
We're excited to get planning for 2023, keep your eyes peeled who knows where we'll end up next!